Keith Allen Haring (May 4, 1958 – February 16, 1990) was an American artist whose pop art and graffiti-like work grew out of the New York City street culture of the 1980s.
Haring's work grew to popularity from his spontaneous drawings in New York City subways – chalk outlines on blank black advertising-space backgrounds – depicting radiant babies, flying saucers, and deified dogs.[1] After public recognition he created larger scale works such as colorful murals, many of them commissioned. His imagery has "become a widely recognized visual language".His later work often addressed political and societal themes – especially homosexuality and AIDS – through his own iconography.
He first received public attention with his public art in subways where he created white chalk drawings on a black, unused advertisement backboard in the stations. Keith considered the subways to be his "laboratory", a place where he could experiment and create his artwork.Starting in 1980, he organized exhibitions at Club 57,which were filmed by the photographer Tseng Kwong Chi. Around this time, "The Radiant Baby" became his symbol. He used it as his tag to sign his work while a subway artist. His bold lines, vivid colors, and active figures carry strong messages of life and unity.He participated in the Times Square Exhibition and drew animals and human faces for the first time. That same year, he photocopied and pasted provocative collages made from cut-up and recombined New York Post headlines around the city. In 1981, he sketched his first chalk drawings on black paper and painted plastic, metal, and found objects.
Haring had a maintenance job at the Pittsburgh Center for the Arts and was able to explore the art of Jean Dubuffet, Jackson Pollock, and Mark Tobey. His most critical influences at this time were a 1977 retrospective of the work of Pierre Alechinsky and a lecture by the sculptor Christo in 1978. Alechinsky's work, connected to the international Expressionist group CoBrA, gave him confidence to create larger paintings of calligraphic images. Christo introduced him to the possibilities of involving the public with his art. His first important one-man exhibition was in Pittsburgh at the Center for the Arts in 1978.
By 1982, Haring had established friendships with fellow emerging artists Futura 2000, Kenny Scharf, Madonna and Jean-Michel Basquiat. He created more than 50 public works between 1982 and 1989 in dozens of cities around the world. He often used lines of energy to emphasize kinetic movement, vitality, and euphoric spirit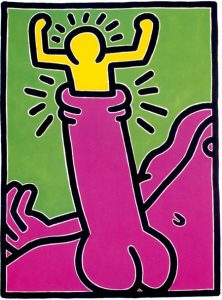 He got to know Andy Warhol, who was the theme of several of Haring's pieces, including "Andy Mouse". His friendship with Warhol would prove to be a decisive element in his eventual success.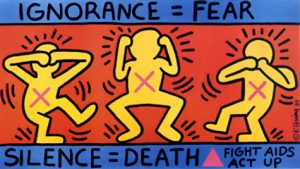 By the arrival of Pop Shop, his work began reflecting more socio-political themes, such as anti-Apartheid, AIDS awareness, and the crack cocaine epidemic. He even created several pop art pieces influenced by other products: Absolut Vodka, Lucky Strike cigarettes, and Coca-Cola.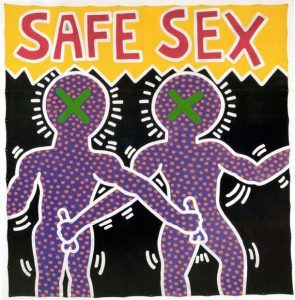 When his friend Jean-Michel Basquiat died of an overdose in New York in 1988, he paid homage to him with his work A Pile of Crowns, for Jean-Michel Basquiat.[24]
Haring was openly gay and was a strong advocate of safe sex; however, in 1988, he was diagnosed with AIDS. From 1982 to 1989, he was featured in more than 100 solo and group exhibitions as well as produced more than 50 public artworks in dozens of charities, hospitals, day care centers, and orphanages. He used his imagery during the last years of his life to speak about his illness and to generate activism and awareness about AIDS. In 1989, he was invited by the Lesbian and Gay Community Services Center to join a show of site-specific artwork for the building at 208 West 13th Street. He chose the second-floor men's room for his mural Once Upon a Time.
In 1989, he established the Keith Haring Foundation to provide funding and imagery to AIDS organizations and children's programs, and to expand the audience for his work through exhibitions, publications and the licensing of his images. The foundation's goal is to keep Keith Haring's wishes and expand his heritage, crafts, art and goals by providing grants and funding to nonprofit organizations that target educating disadvantaged youths and informing individuals about HIV and AIDS.
He collaborated with Grace Jones, whom he had met through Andy Warhol.
Haring died on February 16, 1990, of AIDS-related complications.He (among others) is commemorated in the AIDS Memorial Quilt. As a celebration of his life, Madonna declared that the first New York date of her 1990 Blond Ambition World Tour would be a benefit concert for Haring's memory and donated all proceeds from her ticket sales to AIDS charities including AIDS Project Los Angeles and amfAR; the act was documented in her film Truth or Dare.
Source: Wikipedia